19 Dec

What every man in your life needs…

Wicked sista is home to many lifestyle accessories and fashion necessities – even ones that are perfect for the many wonderful men in your life – like socks, grooming kits, shoe shine kits and more.

Treat your boyfriend, your brother, your dad or your son to any of these prime products that will keep them well groomed, fresh and shiny.

Mister Box of Socks – Why is it that pairs of socks always seem to lose one of its pair? Guys not need worry every again about searching deep into the sock draw or laundry pile for a clean pair of trendy looking socks. This magic box of goodies includes three funky designs to jazz up your boy's look!
Mister Shoe Shine Kit – We all know a good man polishes his shoes – regularly. The saying is true – you can tell a good man by how neat his shoes are. The Mister Shoe Shine Kit will keep his shoes looking buff and shiny for every occasion. Say goodbye to dirty, scruffy shoes and hello to endless gleam!
Mister Grooming Kit – A pocket sized grooming kit perfect for travel, to keep in the car, backpack or briefcase! Because the men in our life need to be feeling fine and fresh wherever they are.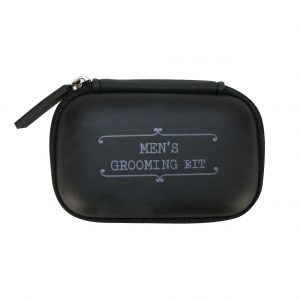 Mister Deluxe Black Double Zip Wash Bag – A versatile wash bag coming in a sleek and classic design. This one will never go out of style, and contains two separate zipper sections with internal pockets to hold all his toiletry necessities.
So next time you're thinking about what to get the lads in your life for a gift or 'just because', we have you covered.